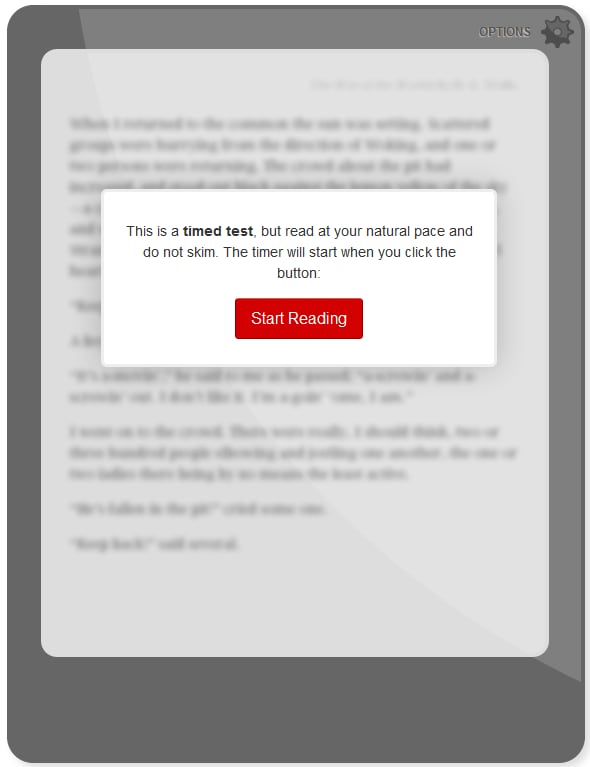 I read 296 words in 40 seconds.
I read 449 words per minute.
That makes me 80% faster than the national average.
If I maintained this reading speed, I could read:
War and Peace by Leo Tolstoy in 21 hours and 48 minutes
Harry Potter and the Sorcerer's Stone by J.K. Rowling in 2 hours and 51 minutes
The Lord of the Rings by J.R.R. Tolkien in 17 hours and 46 minutes
Catch-22 by Joseph Heller in 6 hours and 28 minutes
Nineteen Eighty-Four by George Orwell in 3 hours and 18 minutes

(I wish! I finished this book after two weeks!)

The Fountainhead by Ayn Randin 11 hours and 34 minutes
The Grapes of Wrath by John Steinbeck in 6 hours and 17 minutes
A Tale of Two Cities by Charles Dickens in 5 hours and 2 minutes
Wuthering Heights by Emily Bronte in 4 hours
To Kill A Mockingbird by Harper Lee in 3 hours and 41 minutes
The Color Purple by Alice Walkerin 2 hours and 28 minutes
How many books* could I read on each eReader before recharging?
*Assuming an average book length of 136,604 words
Three books on the Kindle.
Source:
Staples eReader Department
To try the test, just click on the picture of the e-reader on the top. And let me know how you scored! :)